Click here to receive updates on new projects, contests or free downloads.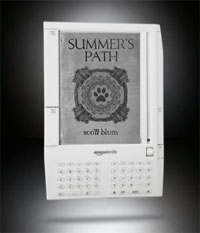 WIN A FREE AMAZON KINDLE READER PLUS 65 BOOKS OF YOUR CHOICE!
When you download the free E-Book of Summer's Path, you can enter below to win a free Amazon Kindle Reader and a gift certificate for 65 books of your choice! The Amazon Kindle is a wireless, portable reading device with instant access to more than 190,000 books, blogs, newspapers and magazines. "It's absolutely my new favorite thing in the world," says Oprah.
STEP ONE:
First, be sure to download the FREE E-Book of Summer's Path. You don't need a Kindle to read it; you can either read it on your computer, print it out on paper, or download the audio version that you can listen to on your iPod. This is a limited offer, so be sure to download it now before the price goes up.
Download Text - FREE Limited Offer (Reg: $9.99)
Download Audio - FREE Limited Offer (Reg: $9.99)

STEP TWO:

Once you've downloaded the free E-Book of Summer's Path, you can enter to win a free Amazon Kindle Reader plus a gift certificate for 65 books of your choice that you can download into it (Over $1,000 value!) When you enter, you will automatically be signed up to receive Scott's free newsletter which will keep you updated on his new projects, contests and free downloads.

To enter, fill in the information below: